5th Match of IPL 2018 Season – Chennai Super Kings Vs Kolkata Knight Riders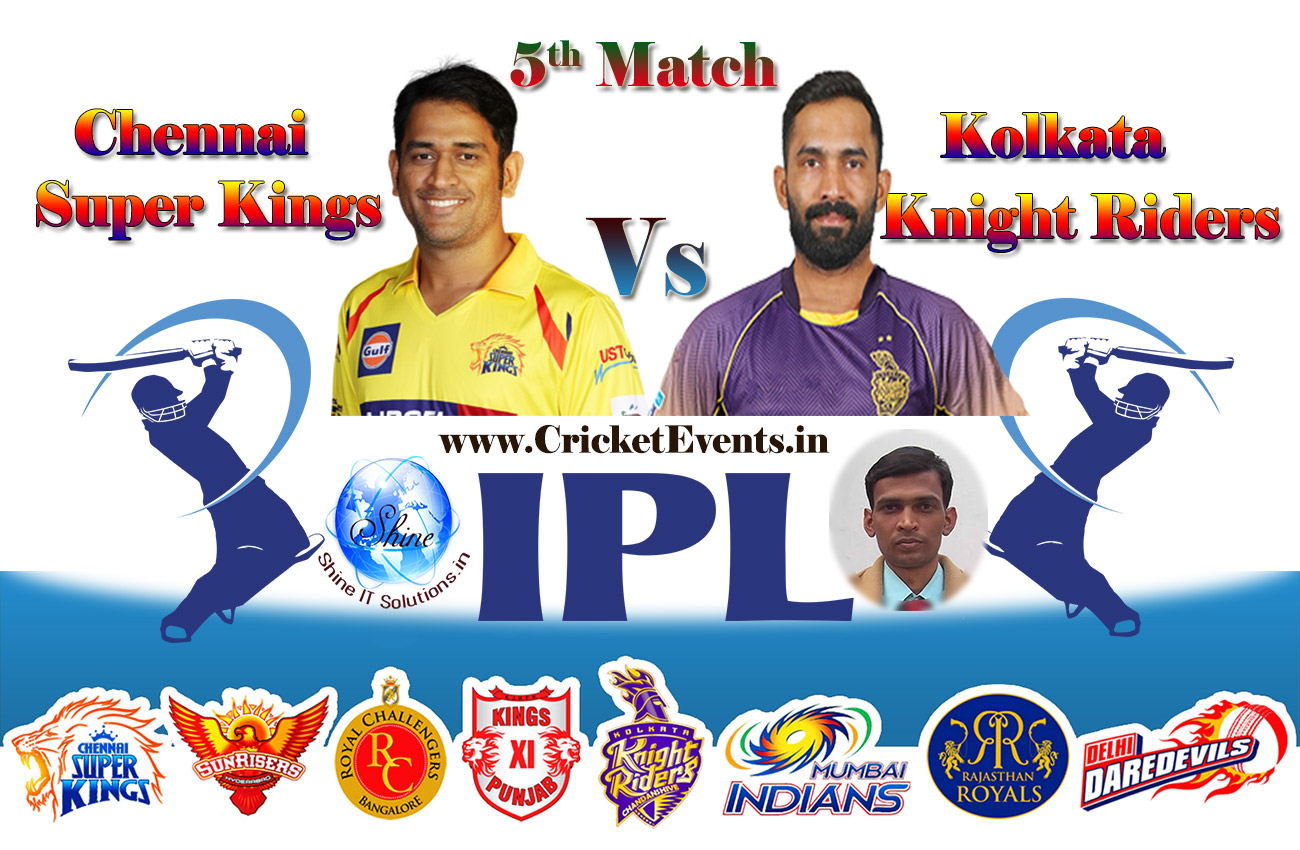 5th Match of IPL 2018 Season – Chennai Super Kings Vs Kolkata Knight Riders
Chennai Super Kings will take on Kolkata Knight Riders in what promises most interesting game of the VIVO Indian Premier League 2018 to be played at the M. A. Chidambaram Stadium in Chennai on Tuesday, April 10, 2018.
Indian Premier League, one of the biggest sporting leagues in the world was introduced to the world in the year 2008. The 10 seasons of IPL since then have given the fans of the game some of the most exhilarating and nail-biting moments of their lifetime.
The 11th edition of the world's most popular and competitive T20 tournament will be played at nine venues across 51 days.
The upcoming edition will feature 12 matches that will be played at 4:00 PM IST and 48 matches will start at 8:00 PM IST.
Click here to know Complete Match Schedule of VIVO IPL Season 2018
Chennai Super Kings (CSK):
The Chennai Super Kings (CSK) is a franchise cricket team based in Chennai, Tamil Nadu, which plays in the Indian Premier League (IPL). Chennai Super Kings founded in 2008. After serving a two-year suspension from the IPL starting July 2015 for the alleged involvement of their owners in the 2013 Indian Premier League spot-fixing and betting case, the Super Kings will return to the league in 2018. Prior to the suspension, the team was captained by Mahendra Singh Dhoni and coached by Stephen Fleming.
Click here to read more about Chennai Super Kings
Kolkata Knight Riders (KKR):
The Kolkata Knight Riders (also known by the acronym KKR) are a franchise cricket team representing the city of Kolkata in the Indian Premier League. The franchise is owned by Bollywood actor Shahrukh Khan, actress Juhi Chawla and her spouse Jay Mehta. The team is coached by Jacques Kallis. The home of the Knight Riders is Eden Gardens, the largest cricket stadium in India and the second largest in the world by seating capacity.
The leading run-scorer of the side is Gautam Gambhir, while the leading wicket-taker is Sunil Narine. The official theme of the team is Korbo, Lorbo, Jeetbo Re and the official colours are purple and gold. The brand value of the Knight Riders was estimated at $99 million in 2017, second highest among IPL franchises.
Click here to read more about Kolkata Knight Riders
Download this article as PDF File
Watch our Video on  Youtube Channel 'Concepts Made Easy'. Click here to watch.
Visit our website for more articles: www.GoodMorningQuotes.in
Visit our website for more articles: www.CricketEvents.in
Visit our website for more articles: www.ConceptsMadeEasy.com
Visit our website for more articles: www.ShineITSolutions.in
Visit our website https://ExamGuide.ConceptsMadeEasy.com for Free Exam Guidance
Visit our website https://ExamResults.ConceptsMadeEasy.com for Exam Results
Visit our website https://Jobs.ConceptsMadeEasy.com for Government Job and Career guidance
Visit our website https://StudyMaterial.ConceptsMadeEasy.com for Download Free Study Material
Visit our website https://WhatsAppStatus.GoodMorningQuotes.in for Sharing latest WhatsApp Status
Visit our website https://AmazingArticles.GoodMorningQuotes.in for reading amazing articles