India Vs South Africa – Preview and Live Score – Cricket World Cup 2019
About ICC Cricket World Cup 2019
ICC Cricket World Cup 2019 is the 12th edition of the Cricket World Cup, scheduled to be hosted by England and Wales, from 30 May to 14 July 2019. The first match will be played at The Oval while the final will be played at Lord's. It is the fifth time that the Cricket World Cup will be held in England and Wales, following the 1975, 1979, 1983 and 1999 World Cups.
The fixture list for the tournament was released on 26 April 2018 after the completion of an International Cricket Council (ICC) meeting in Kolkata. London Stadium had been named as a possible venue in the planning stages, and in January 2017 the ICC completed an inspection of the ground, confirming that the pitch dimensions would be compliant with the requirements to host ODI matches. However, when the fixtures were announced, London Stadium was not included as a venue.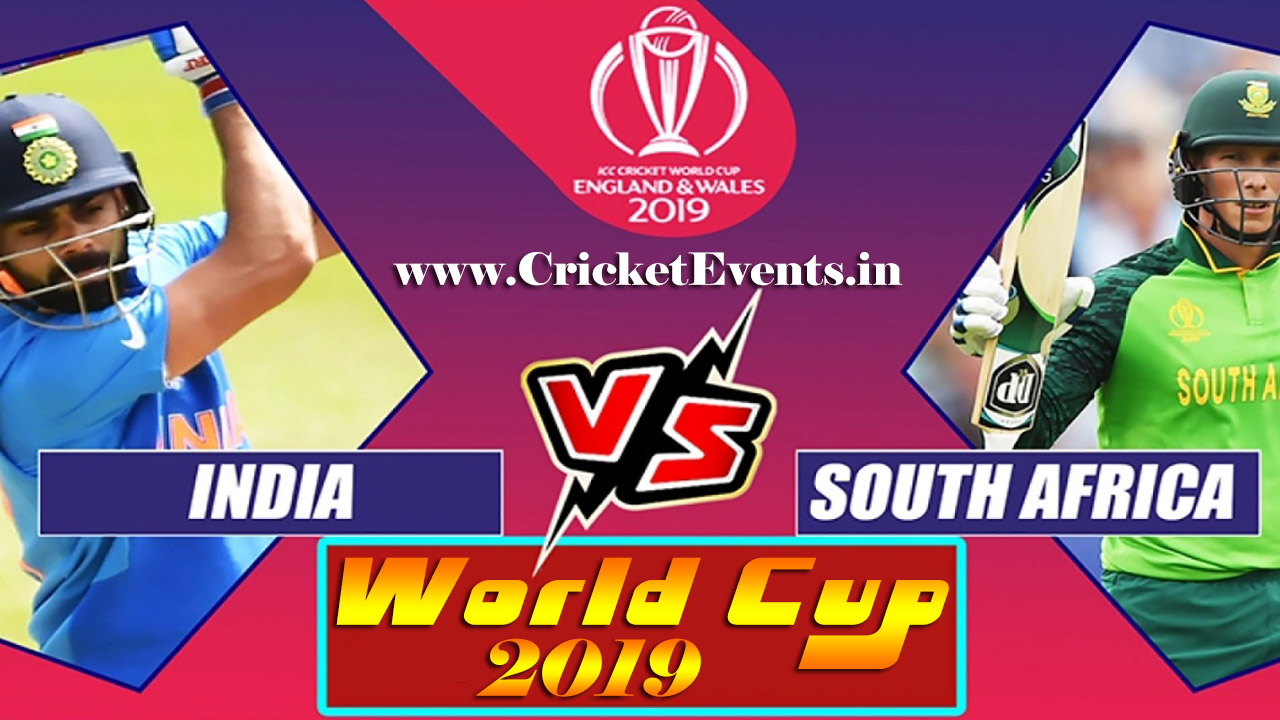 India Vs South Africa – Preview and Live Score – Cricket World Cup 2019
8th Match of ICC Cricket World Cup 2019
Kohli is one of the best batsmen as of today, but this edition of the World Cup will define his legacy as a leader, an aspect on which the jury is still out despite some heady achievements in the Test arena.
The current team does have match-winners with the skipper himself being the biggest of them all, but it still misses the aura that the "class of 2011" had under Mahendra Singh Dhoni.
Virat Kohli will embark on the most defining journey of his international career, carrying the hopes of more than a billion fans when he leads India against a struggling South Africa in their 2019 World Cup opener at Southampton on June 5.
The 'Men In Blue' have had adequate rest as most teams have already played two games. They're sure waiting to kick-start their 2019 campaign with a commanding performance.
The first match in a tournament of such vast magnitude is always important and South Africa's confidence will be at its lowest following back-to-back defeats against England and Bangladesh.
The clash couldn't possibly have been more well-timed as India have a chance to hold the Proteas by the scruff of their neck when they are seemingly at their weakest.
However, a cornered opponent is always a dangerous proposition and head coach Ravi Shastri will remind the team of the consequences of taking their foot off the pedal.
The pitch at the Ageas Bowl stadium in Southampton, devoid of grass cover, is expected to be batting-friendly, but Kohli will have a few points to ponder upon as the weather forecast on match day indicates cloud cover with intermittent shower.
Du Plessis is no stranger to adversity as a skipper but even for him, this first World Cup assignment as a leader has started off like a beginner's guide to Murphy's law. It must help South Africa that they have a man as capable as du Plessis leading the side, and putting up a brave face. They're still docked with two games done, and are attempting to set sail at a place infamous for its Titanic connection. Woe be him, you'd think, but du Plessis is already on top of that.
Foremost amongst du Plessis' work, he's said, is to keep the morale up. "At no stage in the game can we as a senior player group look like we are down-and-out. It is not an option for us. We are a very, very proud cricketing nation. So, no matter how bad it gets, how good it gets, I will keep driving that," said du Plessis in the pre-match press conference. Staying strong was the word repeatedly mentioned right through.
"For me, the natural thing that happens in a team like that is you find that your confidence goes down and naturally younger guys in the team coming to their first World Cup they will potentially go into their self-pity cycle," du Plessis said. "So, for me, it was strong words in the sense that that won't be allowed over the next couple of days. It is important for us to stay strong at this time. If you do slightly go away from that, then as a team you can crumble and unfortunately, we are not in a position where we can afford that."
Will a third seamer in Bhuvneshwar Kumar come into the picture? Will Ravindra Jadeja's form in the warm-up matches get credence over Kuldeep Yadav and Yuzvendra Chahal's 22-month show in tandem? Does Kedar Jadhav fit in without playing a single game for a month or would Vijay Shankar get a look in?
These are some of the pressing questions that skipper Kohli needs to address going into the first game.
There's no doubt that the Proteas are badly hit by poor form and injuries, but it may just take one fiery spell from Kagiso Rabada to straighten things up.
A bit of help from the weather and his ability to move the ball could help Rabada unsettle the opening pair of Rohit Sharma and Shikhar Dhawan, who haven't had the best of form in the past few months.
ICC Cricket World Cup 2019 full Match Schedule – Time and Venue
Complete analysis of Teams of ICC Cricket World Cup 2019
Team India Squad of ICC Cricket World Cup 2019
Complete analysis of India Team of ICC Cricket World Cup 2019
---
India Team – ICC Cricket World Cup 2019
Visit our website: www.cricketevents.in
Watch our Video on  Youtube Channel 'Concepts Made Easy'. Click here to watch.
Visit our website for more articles: www.GoodMorningQuotes.in
Visit our website for more articles: www.CricketEvents.in
Visit our website for more articles: www.ConceptsMadeEasy.com
Visit our website for more articles: www.ShineITSolutions.in
Visit our website https://ExamGuide.ConceptsMadeEasy.com for Free Exam Guidance
Visit our website https://ExamResults.ConceptsMadeEasy.com for Exam Results
Visit our website https://Jobs.ConceptsMadeEasy.com for Government Job and Career guidance
Visit our website https://StudyMaterial.ConceptsMadeEasy.com for Download Free Study Material
Visit our website https://WhatsAppStatus.GoodMorningQuotes.in for Sharing latest WhatsApp Status
Visit our website https://AmazingArticles.GoodMorningQuotes.in for reading amazing articles