5th Match of Women's Asia Cup T20 2018 – India Women Vs Thailand Women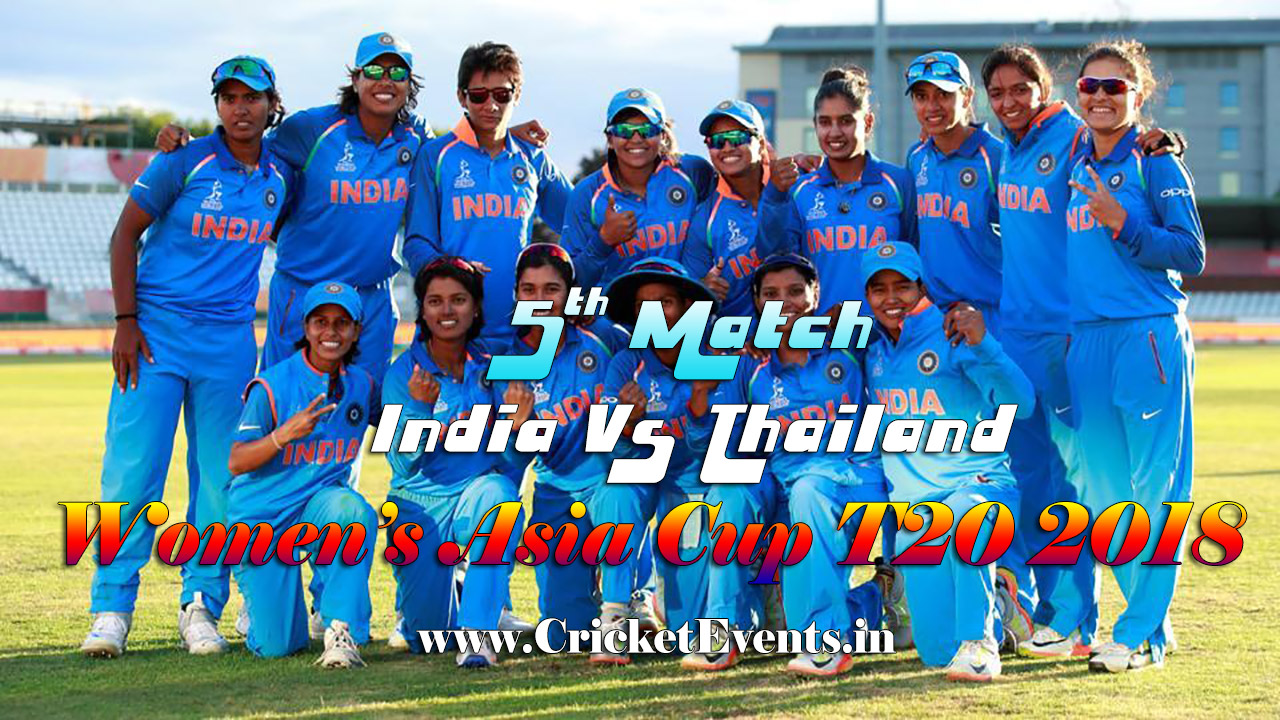 5th Match of Women's Asia Cup T20 2018 – India Women Vs Thailand Women
India Women will take on Thailand Women in what promises most interesting game of the Women's Asia Cup T20 2018 to be played at the Royal Selangor Club in Kuala Lumpur on Monday, June 04, 2018.
Women's Twenty20 Asia Cup 2018 will be the seventh edition of the ACC (Asian Cricket Council) Women's Asia Cup, organized by the Asian Cricket Council. It is scheduled to take place between 3rd and 10th June 2018 in Malaysia and will be the third edition played as a 20-over tournament.
The tournament will be contested between Bangladesh, India, Malaysia, Pakistan, Sri Lanka and Thailand.
Click here to know Women's Asia Cup T20 2018 Complete Match Schedule
India Women:
The India women's national cricket team, commonly the Women in Blue, represents the country of India in international women's cricket. One of eight teams competing in the ICC Women's Championship, the highest level of international women's cricket, the team is governed by the Board of Control for Cricket in India (BCCI).
Click here to read more about India Women
Thailand Women:
The Thailand national women's cricket team is the team that represents the country of Thailand in international women's cricket matches. They made their international debut when they played and lost, two matches against Bangladesh in July 2007. The team's first international tournament outside of Asian Cricket Council regional events was the 2013 World Twenty20 Qualifier, where they placed fifth out of eight teams. The team was less successful at the 2015 edition of the tournament, which it hosted, winning only one match (against the Netherlands) to finish seventh.
Click here to read more about Thailand Women
Download this article as PDF File
Watch our Video on  Youtube Channel 'Concepts Made Easy'. Click here to watch.
Visit our website for more articles: www.GoodMorningQuotes.in
Visit our website for more articles: www.CricketEvents.in
Visit our website for more articles: www.ConceptsMadeEasy.com
Visit our website for more articles: www.ShineITSolutions.in
Visit our website https://ExamGuide.ConceptsMadeEasy.com for Free Exam Guidance
Visit our website https://ExamResults.ConceptsMadeEasy.com for Exam Results
Visit our website https://Jobs.ConceptsMadeEasy.com for Government Job and Career guidance
Visit our website https://StudyMaterial.ConceptsMadeEasy.com for Download Free Study Material
Visit our website https://WhatsAppStatus.GoodMorningQuotes.in for Sharing latest WhatsApp Status
Visit our website https://AmazingArticles.GoodMorningQuotes.in for reading amazing articles