Complete Biography of AB de Villiers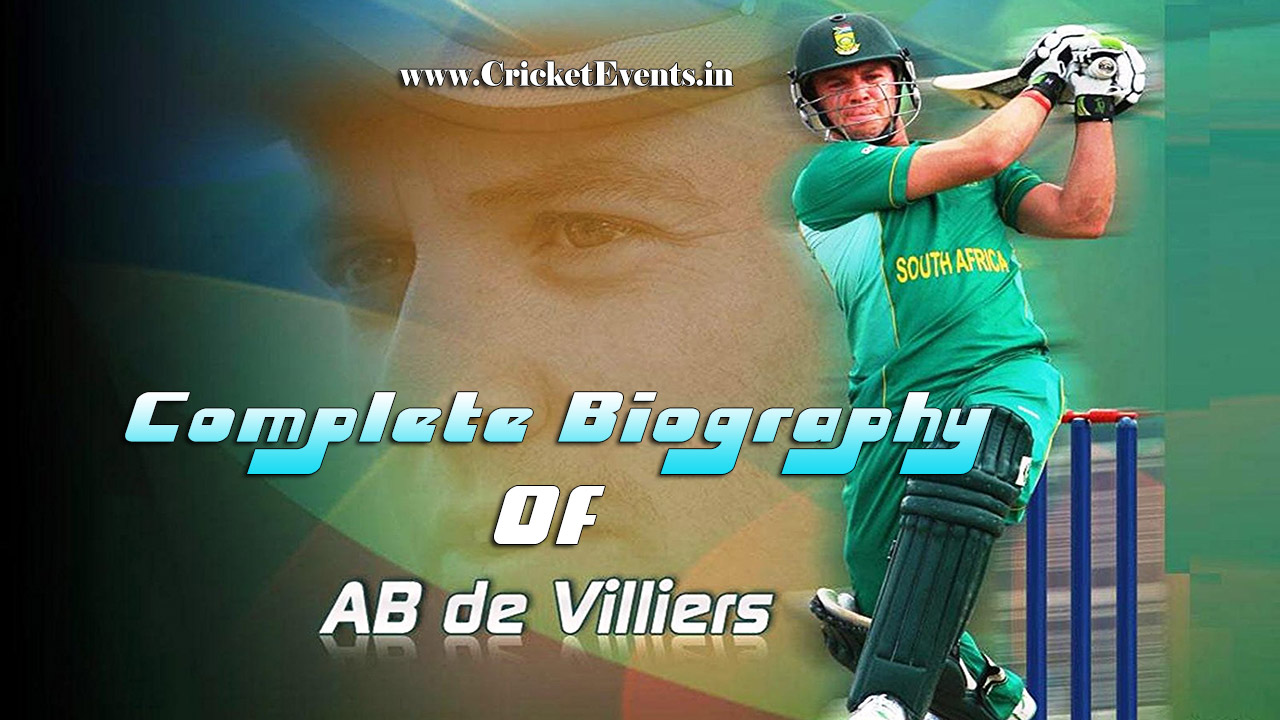 Complete Biography of AB de Villiers
Complete Biography of AB de Villiers:
Abraham Benjamin de Villiers (born 17 February 1984), commonly known as AB de Villiers and Mr 360 Degree, also simply known as ABD, is a former South African cricketer who played for the South African national team. He is regarded as one of the greatest batsmen of all time. De Villiers holds many batting records, including the world's fastest One Day International (ODI) 50, 100 and 150, the fastest Test century by a South African and the fastest Twenty20 International (T20I) 50 by a South African. He also plays for Titans in domestic cricket and Royal Challengers Bangalore in the Indian Premier League.
De Villiers captained South Africa in all formats, but since his injuries, he stepped down from Test captaincy and continued in limited over formats. However, with defeats in the 2017 ICC Champions Trophy and England series, he stepped down from limited over captaincy as well. On 23 May 2018, he announced that he was retiring from all forms of international cricket.
He began his international career as a wicket-keeper/batsman (returning to the role for a few years in mid-career), but has played most often solely as a batsman. He would bat at various positions in the batting order but predominantly in the middle-order. Noted as one of the most innovative batsmen in the modern game, de Villiers is noted for many unorthodox shots behind the wicket-keeper and slips. He made his international debut in a Test match against England in 2004 and first played an ODI in early 2005. His debut in Twenty20 International cricket came in 2006. As of 2016, he has passed 8,000 runs in both Test and ODI cricket and has a batting average of over fifty in both forms of the game. He is also the only batsman in ODI cricket to have completed a trio of 5000+ runs, 50+ average and 100+ strike rate in his career. As of May 2018, he scored 20,014 runs in international cricket since debut just lying second behind Kumar Sangakkara.
Abraham Benjamin de Villiers was born in Warmbad, South Africa, and enjoyed what he later described as the "really relaxed lifestyle up there, where everyone knows everyone". He went to high school in Pretoria along with teammate Faf du Plessis. They attended the prestigious Afrikaanse Hoër Seunskool. AB returned home for weekends. His father was a doctor who had played rugby union in his youth, and he encouraged his son to play sports; as a child, De Villiers played cricket at his home. His autobiography was published in September 2016. He has been involved in charity works.
The career of Ab de Villiers:
De Villiers is a right-handed batsman, who has accumulated over 8,000 runs in Tests including 22 centuries and 46 fifties. He holds the record for most Test innings without registering a duck (78), before being dismissed for naught against Bangladesh in November 2008. He also holds the second-highest individual score by a South African batsman, with 278 (not out). Until 2012 he was an occasional wicket-keeper for South Africa, although after the retirement of regular Test keeper Mark Boucher and under his own captaincy he has started to regularly keep wicket for the national side in Tests, ODIs, and T20Is. He gave up wicket-keeping in 2015 and handed the gloves to debutant Quinton de Kock.
He holds the records for the fastest 50 (16 balls), 100 (31 balls) and 150 (64 balls) of all time in One Day Internationals by any batsmen, and also holds the fastest hundred by a South African in Tests and the fastest 50 by South African in T20Is. He is a three-time ICC ODI player of the year, winning the award in 2010, 2014 and 2015.
He succeeded Graeme Smith after the 2011 Cricket World Cup for the ODI captaincy and Hashim Amla after the Second Test of England in South Africa series for the Test captaincy. He stepped down from Test captaincy in December 2016 due to an elbow injury which kept him out of the team for a long period.
International career:
De Villiers became the second-youngest and second-fastest South African to reach 1,000 test runs after Graeme Pollock. In his Test career so far has batted, bowled and kept wicket. After a spell in the South Africa U19 team, he made his debut for the Titans in 2003/4.
He made his Test debut as a 20-year-old on 16 December 2004 against England at Port Elizabeth. He made an impressive opening the batting, but was dropped down the order for the second Test and also handed the wicket-keeping gloves. In this match, he made a match-saving half-century from number seven. However, he found himself at the top of the order again for the final Test of the series and has played the majority of his Test innings there.
Despite a good tour of the Caribbean where he scored 178 to help South Africa seal a Test series win, his rapid progress was halted on the tour of Australia in 2005. Despite playing Shane Warne well, he struggled and made just 152 runs in 6 innings.
He has been used in a similar fashion to Jonty Rhodes in ODIs, opening the innings, although he currently bats in the middle order. De Villiers gave the selectors a sign by producing his then highest one-day score of 92 not out, which included 12 fours and one six, from 98 balls against India in the 2006 winter series.
De Villiers has a reputation as an outstanding fielder, typified by a diving run-out of Simon Katich of Australia in 2006 when he dived to stop the ball, and while still lying on his stomach facing away from the stumps, he tossed the ball backward over his shoulder and effected a direct hit. This has also led people to make further comparisons of him to Jonty Rhodes, who was also one of the finest fielders of his generation. His fielding positions other than wicketkeepers are the 1st and 2nd slip and cover.
In 2009, he was nominated for ICC Cricketer of the year and ICC Test Player of the year.
On 6 June 2011, then S.A. coach Gary Kirsten announced that AB de Villiers will be South Africa's new limited-overs captain. "I'm very excited but I'm also inexperienced. But I've learnt a lot the last seven years from an unbelievable captain," said De Villiers, who had never captained a team at first-class level. "It's a big responsibility, but there'll be a fresh look in the side, which is good."
Ab de Villiers in 
World Cup 2015
:
De Villiers was one of the top performers at the 2015 Cricket World Cup scoring 482 runs at an average of 96.0 and strike rate of 144.0 during the tournament.
On 27 February 2015, De Villiers scored 162 runs off 66 balls in a match against the West Indies in Pool B of 2015 Cricket World Cup; leading South Africa to their second-highest total in world cup history (408) on the Sydney Cricket Ground. With this feat, he became the record holder for the fastest 50, 100 and 150 in One-Day International history.
Under the captaincy of De Villiers, South Africa qualified for the semi-finals of the World Cup but lost to New Zealand in the match. De Villiers finished the tournament as the third-highest run-getter with 482 runs behind Martin Guptill and Kumar Sangakkara.
At the end of the tournament, he was ranked number 1 in the ICC batsmen rating in One day International cricket and number 3 in the ICC batsmen rating in Test cricket.
2016–2018 and retirement of Ab de Villiers:
On 6 January 2016, the second test match between England and South Africa ended in a draw. After the end of the match, Hashim Amla resigned from the captaincy and de Villiers was chosen to captain South Africa for the last two matches.
On 21 February 2016, de Villiers scored the fastest T20 fifty by a South African in just 21 balls. He completed the innings with 79 runs in 29 balls and led South Africa to a clean sweep in T20 series.
On 18 January 2017, de Villiers ruled himself out from most of the Test matches and ultimately played in December 2017. However, a day before the Test match, Faf du Plessis picked up a viral infection, putting him in doubt for the match. On the morning of the Test, he was ruled out of the fixture, with AB de Villiers replacing him as captain. He also kept wicket during the match, as South Africa's wicket-keeper Quinton de Kock suffered a hamstring injury while batting on day one. He took eight catches in the match and the Test match finished inside two days, with South Africa winning by an innings and 120 runs.
De Villiers returned for the Indian tour to South Africa in 2018. He stated he has given up wicket-keeping as his back can no longer handle the demand, and Faf du Plessis has resumed his role as captain in all forms of the game.
In the second Test match against Australia, he scored his 22nd Test century 126 not out off 146 balls in the first innings and 28 runs in second innings. His performance helped the team win the match by 6 wickets.
On 23 May 2018, De Villiers announced his retirement from all forms of international cricket. The announcement came as a complete shock to fans all over the world as everyone expected him to retire after the 2019 World Cup He announced his retirement through a video uploaded to twitter in which he explained his shocking decision. One of the statements in his monologue was " I have had my turn, and to be honest, I am tired." A few weeks after his announcement about retiring from international cricket, he clarified and said that he will continue playing T20 leagues for a few more years.
Indian Premier League:
AB de Villiers is one of the most successful batsmen in the Indian Premier League. In the fourth season, he was contracted by Royal Challengers Bangalore for US$1.5 million. He played for the Delhi Daredevils in the previous seasons. He has been crucial to the successful batting lineup of the RCB. He has scored three IPL hundreds, two of which have come while playing for RCB.
Following his retirement from international cricket, his future in the T20 leagues was uncertain. On the 10th of July 2018, he announced that he will continue to play for the Royal Challengers Bangalore for a few more years. He has been tact in not defining a definite length to his T20 league career. He was also reported to have said that he will continue playing for the Titans as well.
Download this article as PDF File
Watch our Video on  Youtube Channel 'Concepts Made Easy'. Click here to watch.
Visit our website for more articles: www.GoodMorningQuotes.in
Visit our website for more articles: www.CricketEvents.in
Visit our website for more articles: www.ConceptsMadeEasy.com
Visit our website for more articles: www.ShineITSolutions.in
Visit our website https://ExamGuide.ConceptsMadeEasy.com for Free Exam Guidance
Visit our website https://ExamResults.ConceptsMadeEasy.com for Exam Results
Visit our website https://Jobs.ConceptsMadeEasy.com for Government Job and Career guidance
Visit our website https://StudyMaterial.ConceptsMadeEasy.com for Download Free Study Material
Visit our website https://WhatsAppStatus.GoodMorningQuotes.in for Sharing latest WhatsApp Status
Visit our website https://AmazingArticles.GoodMorningQuotes.in for reading amazing articles