Highlight and Live Score of 1st Match of IPL 2018 Season – Mumbai Indians Vs Chennai Super Kings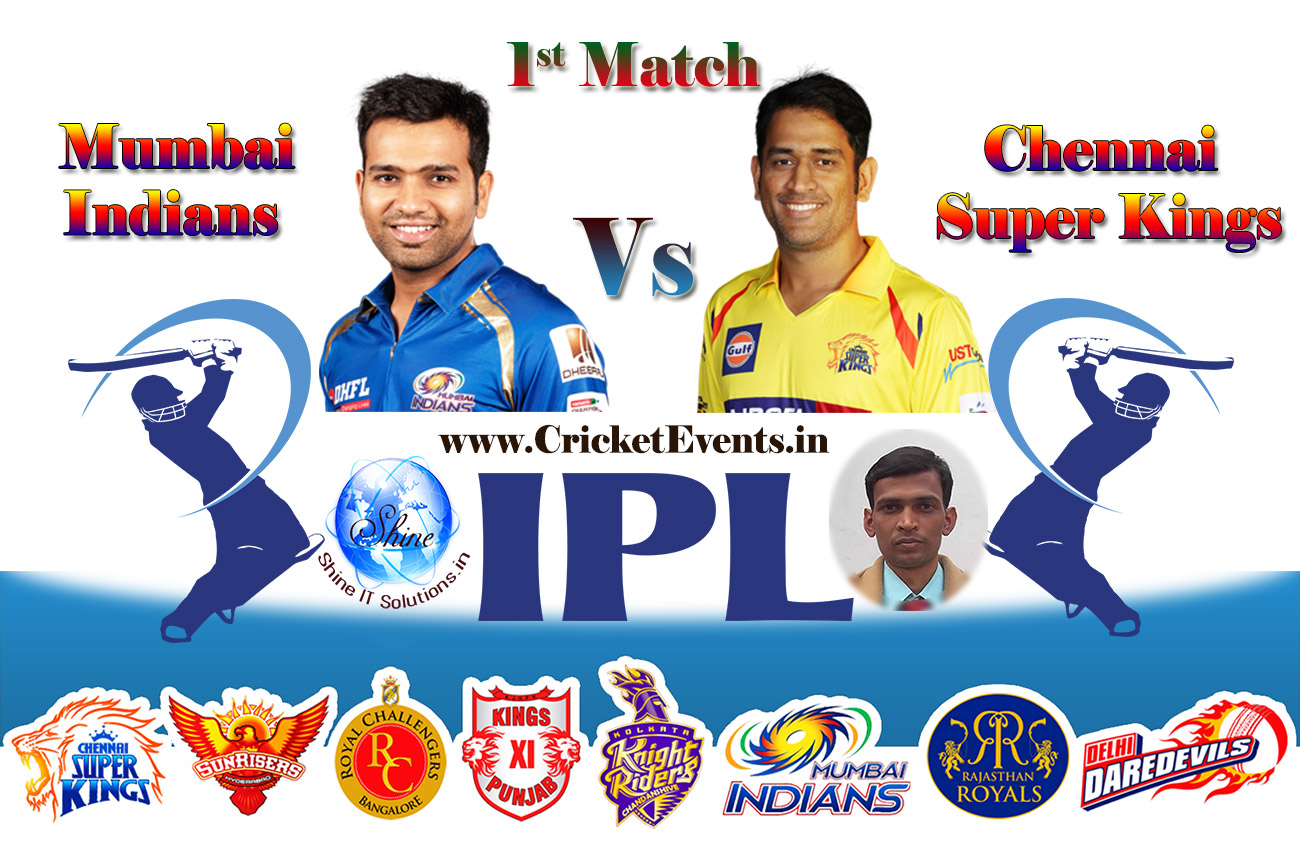 Highlight and Live Score of 1st Match of IPL 2018 Season – Mumbai Indians Vs Chennai Super Kings
Dwayne Bravo stole the limelight on Saturday as Chennai Super Kings beat Mumbai Indians by one wicket in a thrilling opening match of the Indian Premier League (IPL) at the Wankhede Stadium in Mumbai. Bravo scored 68 runs off 30 balls to ensure his team crossed the finishing line. His innings saw three fours and seven sixes. He took the game away from the hosts as he hammered the Mumbai bowlers all over the park. Leg-spinner Mayank Markande bowled well on his debut for Mumbai as he returned with bowling figures of 3/23 in his four overs on debut. With this feat, he surpassed fellow teammate Jasprit Bumrah's figures of 3/32 against Royal Challengers Bangalore in 2013 on his debut. Lasith Malinga tops the chart with 3/15 on his debut for Mumbai in 2009 against Chenna Super Kings. Chasing 166, Shane Watson and Ambati Rayudu began cautiously. Both Watson (16) and Rayadu (22) departed in quick succession. Kedar Jadhav, who looked in decent touch, had to retire early due to injury. MS Dhoni (5) and R Jadeja (12) could not add much. Mumbai could not avoid a late onslaught by Bravo. However, Bravo was dismissed in the 19th over but Jadhav returned from injury to bat and helped his team steer towards victory.
Earlier, Mumbai Indians posted 165 runs for the loss of four wickets in their 20 overs in the first match against Chennai. A stellar batting display by Ishan Kishan, Suryakumar Yadav, and Krunal Pandya helped the hosts reach a modest total. Both Ishan and Suryakumar stabilized the Mumbai innings after the hosts lost Evin Lewis (0) and skipper Rohit Sharma (15) early. First to go was Lewis who failed to read Deepak Chahar's delivery and was dismissed leg before in the 3rd over. Next to depart was Rohit, who mistimed a shot and Ambati Rayudu made no mistake in taking the catch in the 4th over off Shane Watson's delivery. After their dismissals, both Ishan and Surya stitched an important partnership to help Mumbai reach a respectable total. Ishan (40) and Suryakumar (43) missed their fifties but ensured Mumbai were on course for a competitive total. Krunal hit a quickfire 22-ball 41 runs including five fours and two sixes. Watson returned with figures of 2/29 in his four overs for Chennai while Chahar and Imran Tahir took a wicket each.
Highlight and Live Score of 1st Match of IPL 2018 Season – Mumbai Indians Vs Chennai Super Kings:
23:45 IST: What a win! Chennai Super Kings beat Mumbai Indians by 1 wicket to win the 1st match of IPL-11
23:44 IST: SIX! What a shot. The scores are level now. Chennai needs 1 run off 2 balls.
23:42 IST: Jadhav is back. Will Chennai win this?
23:40 IST: OUT! Bravo departs after a superb inning of 68 runs. What an inning by him. Chennai need 7 more runs from 6 balls to win
23:38 IST: SIX! Wow. Bravo has gone berserk. What an unbelievable match. Chennai has come back from the dead.
23:35 IST: SIX! Fifty for Bravo. Chennai has turned it around. Back-to-back sixes. Chennai needs 15 runs off 10 balls now. This is turning into one crazy match.
23:34 IST: FOUR! One bounce and four for Bravo. He has raced to 37. What a good shot. Superb over for Chennai. 20 runs from the over. Chennai need 27 runs from 12 balls to win this match
23:32 IST: SIX! Another one for Bravo. This match is getting interesting. 34 more runs to win off 15 balls.
23:32 IST: SIX! Massive six for Bravo. Extreme strength, wacked it straight over the extra cover boundary. Need a few more of those for CSK.
23:30 IST: Mitchell McClenaghan bowls the 18th over.
23:28 IST: OUT! Mark Wood departs as Pandya gets another wicket. Mustafizur Rahman takes a simple catch. Chennai 118/8 in 16.3 overs, need 48 more runs in 21 balls to win
23:25 IST: Hardik Pandya bowls the 17th over.
23:20 IST: SIX! Cover drive. What a shot by Bravo. A flat six. He loves going through the offside.
23:15 IST: OUT! Harbhajan Singh departs. A slower ball and a simple catch taken. He departs for 8 runs. Chennai need 61 more runs in 31 balls to win
23:13 IST: FOUR! Pressure on the bowler after Bravo hits a shot over covers for a boundary.
23:11 IST: FOUR! Poor fielding by Mumbai. Concede a boundary to Harbhajan.
23:10 IST: FOUR! Outside edge for Bravo. A much-needed boundary for the visitors. Chennai 92/6 in 13.5 overs need 73 more runs from 37 balls
23:07 IST: Harbhajan Singh is the new man in. It doesn't look like Kedar Jadhav will come o bat again.
23:05 IST: OUT! Mayank Markande strikes again. He is having a great debut. Deepak Chahar departs for a duck. Mumbai is 4 wickets away from a win. Chennai 84/6 in 13 overs, need 82 runs more from 42 balls to win
23:01 IST: SIX! Straight and long by Bravo. What a shot. Good timing and the ball goes the distance. The lack of partnerships has caused them problems in this match.
23:00 IST: New man Dwayne Bravo is off the mark with a single.
22:55 IST: OUT! Jadeja plays an outrageous shot and gets caught by Suryakumar Yadav for 12 runs. Good bowling by Rahman. Chennai 75/5 in 12 over, need 91 runs more to win from 48 balls
22:53 IST: Mustafizur Rahman returns with the ball for the hosts.
22:50 IST: SIX! A much-needed boundary. Jadhav powers the ball to the stands. A good shot.
22:48 IST: Chennai looking desperate. Their shot selection has been poor.
22:43 IST: Mayank Markande is waiting for the umpire's decision after bowling a terrific googly. Jadeja survives.
22:42 IST: Ravindra Jadeja is the new man in for CSK.
22:40 IST: Strategic timeout taken.
22:38 IST: OUT! A review has taken. Dhoni awaits his fate. The original decision was not out. But replays show Dhoni has to depart. Young leg-spinner Mayank Markande takes an important wicket of the Chennai skipper. Dhoni departs for 5. Chennai 51/4 in 8.3 overs
22:35 IST: Couple of runs for Chennai skipper Dhoni. CSK need him desperately today.
22:33 IST: FREE HIT! Jadhav on strike. No run. Good bowling by Bumrah.
22:32 IST: Bumrah returns to Mumbai.
22:28 IST: Mayank Markande gets his first wicket, Ambati Rayadu departs for 22 runs. Chennai Super Kings 42/3 in 6.3 overs, need 124 more runs to win
22:26 IST: WICKET! Hardik Pandya strikes again, Suresh Raina departs for 4 runs. Chennai Super Kings 42/2 in 6 overs, need 124 more runs to win
22:17 IST: FOUR! Superb shot. Rayadu smashes it over the two fielders at the offside field.
22:14 IST: FOUR! Rayadu drives it to the onside boundary.
22:14 IST: Suresh Raina is the new man in for the visitors.
22:11 IST: OUT! Watson departs. Big wicket for Hardik. Change of pace does the trick for Pandya. Chennai 27/1 in 3.4 overs
22:10 IST: SIX! Shane Watson at his best. Great power to drive it over the offside region for a maximum.
22:07 IST: A good start by Bumrah. Chennai 19/0 in 3 overs
22:04 IST: Jasprit Bumrah bowls the third over for the hosts.
22:00 IST: FOUR! Watson joins the party. He stays back and sends Mustafizur towards deep extra cover for a boundary.
21:59 IST: FOUR! What a shot. Rayudu smashes McClenaghan towards long off for a boundary.
21:55 IST: Shane Watson and Ambati Rayudu open the innings for CSK. Mitchell McClenaghan opens the attack for MI.
21:37 IST: Mumbai Indians post 165/4 in 20 overs.
21:35 IST: Bravo bowls the last over. Fantastic stuff by Bravo. No room for the batsman to score runs. Hardik Pandya appears in real pain. A worrying sight for the Mumbai batsman.
21:33 IST: A SIX by Krunal to finish the over. One over to go. Mumbai Indians 160/4
21:31 IST: FOUR! Straight to the long off boundary. Superb shot by Krunal. Attempted yorker didn't go well. Back-to-back boundaries for Krunal. He is playing a crucial inning. Brilliant batting by him.
21:24 IST: FOUR! Not a bad ball but a good shot by Krunal at the long on boundary. Mumbai Indians 140/4 in 17 overs
21:23 IST: Outstanding fielding by Jadeja. A good over so far for the hosts.
21:22 IST: SIX! What a shot. Krunal Pandya hits a maximum. Pulls it towards the onside boundary. Hits it in front of the square boundary for a maximum.
21:20 IST: Bravo is bowling well. Mumbai needs something more from the Pandya brothers. Mumbai Indians 121/4 in 16 overs
21:11 IST: FOUR! Krunal Pandya smashes the ball towards the offside boundary.
21:10 IST: WICKET! Tahir takes a comfortable catch. Ishan departs 40 runs. A crucial wicket for the Chennai side. Mumbai Indians 113/4 after 14.4 overs
21:01 IST: Hardik Pandya is the new man in.
21:00 IST: WICKET! Suryakumar Yadav departs after a terrific knock. Mumbai loses their third wicket. A good catch by Harbhajan Singh. Superb innings of 43 runs by Surya. Mumbai Indians 98/3 after 12.3 overs
21:00 IST: This partnership developing nicely for the Mumbai side. Suryakumar Yadav and Ishan Kishan have batted brilliantly. 78-run partnership off 51 balls.
20:55 IST: FOUR! Mumbai is turning up the heat on Chennai bowlers now. Suryakumar Yadav is on fire. Three back-to-back boundaries for him. Dwayne Bravo at the receiving end of Surya's wrath. Mumbai Indians 97/2 in 12 overs
20:51 IST: SIX! Surya whacks Tahir over long on boundary. Expensive first over for Imran Tahir. Mumbai Indians 83/2 in 11 overs
20:50 IST: FOUR! Poor fielding gives Suryakumar a boundary.
20:46 IST: Just three runs off the over. Good bowling by Wood. Mumbai Indians 65/2 in 10 overs
20:44 IST: Play resumes with Mark Wood takes up the ball for the visitors.
20:41 IST: Strategic timeout taken.
20:40 IST: FOUR! Powerful shot towards the offside boundary. by Suryakumar. Mumbai Indians 61/2
20:38 IST: Imran Tahir fields brilliantly for Chennai. Saves a probable boundary.
20:37 IST: FOUR! Kishan opens the face of the bat. No slip and gets it past the gap in the slip field. Mumbai Indian 52/2 in 8 overs
20:35 IST: Ravindra Jadeja is welcomed with a boundary. A little bit of room on the off stump. Kishan slams it for a boundary on the offside.
20:33 IST: Good over by Bhajji there. Mumbai Indians 43/2 in 7 overs
20:31 IST: Harbhajan Singh is the new bowler. A former Mumbai man. Starts well. His experience will come in handy for the Chennai team.
20:30 IST: SIX! A big one over square leg. Now Kishan takes over the scoring reins from Suryakumar. A superb shot. Mumbai Indians 39/2 after 6 overs
20:28 IST: FOUR! Lovely shot off the back foot. This one is even better. Suryakumar seems to be looking in good touch. A fabulous shot, his balance was perfect and he punches it beyond the mid off fielder.
20:26 IST: Shane Watson bowls his third over.
20:26 IST: Ishan Kishan and Suryakumar Yadav have to build a partnership now for the hosts.
20:23 IST: FOUR! What a shot. Suryakumar Yadav gets off the mark with a four at the extra cover boundary. Really good balance there.
20:23 IST: Batting has not been easy for the Mumbai side.
20:20 IST: WICKET! Watson strikes. Skipper Rohit departs for 15 runs. Hosts lose their second wicket. A superb catch by Ambati Rayadu. Mumbai in trouble. Mumbai Indians 20/2 in 3.5 overs
20:18 IST: SIX! This time Rohit gets some wood. First maximum of the IPL. A superb shot by the skipper. A huge one to a deep extra cover region. Mumbai Indians 20/1 in 3.4 overs
20:15 IST: Ishan Kishan clears the fielder and falls safely. Terrific over by the young Chahar. Mumbai Indians 12/1 in 3 overs
20:11 IST: WICKET! A review has taken. Review for leg before. Evin Lewis awaits his fate. The original decision is out. Lewis departs for a duck. Superb delivery by Chahar. Outfoxed the batsman. This is the first DRS review taken in the IPL. Mumbai Indians 7/1 in 2.1 overs
20:08 IST: Little bit of movement for Shane Watson. Bounces off Rohit's bat at first slip. Harbhajan Singh on the slip. Mumbai Indians 7/0 in 2 overs
20:07 IST: Its high up in the air. Lands safely. Caught Rohit early. He hits that right from the bottom of the ball. Two runs.
20:05 IST: TRIVIA! Ten players over 30 years of age in the Chennai team.
20:05 IST: Shane Watson bowls the second over for the visitors.
20:03 IST: FOUR! First boundary of the tournament. Slightly outside the off stump and the bowler gets punishes by Rohit. Mumbai Indians 5/0 in 1 over
20:01 IST: What a start by Chahar. Outside the off stump. Good carry to the keeper.
20:00 IST: Mumbai Indians openers Evin Lewis and Rohit Sharma are out in the middle. Chennai bowler Deepak Chahar begins the proceedings with the ball for the visitors.
20:00 IST: The highly-anticipated opening clash between Mumbai and Chennai begins.
19:41 IST: Chennai Super Kings Playing XI: A Rayudu, S Watson, S Raina, K Jadhav, MS Dhoni, DJ Bravo, R Jadeja, H Singh, D Chahar, I Tahir, M Wood
19:40 IST: Mumbai Indians (Playing XI): Evin Lewis, Ishan Kishan(w), Rohit Sharma(c), Hardik Pandya, Mayank Markande, Kieron Pollard, Suryakumar Yadav, Krunal Pandya, Mitchell McClenaghan, Mustafizur Rahman, Jasprit Bumrah
19:30 IST: Chennai Super Kings win the toss. MS Dhoni elects to bowl first.
19:30 IST: Toss time.
19:27 IST: Legend Sunil Gavaskar gives the insights into the pitch report. The grass cover means the ball will come nicely to the bat. The pitch is full of runs, sixes, and boundaries.
Download this article as PDF File
Watch our Video on  Youtube Channel 'Concepts Made Easy'. Click here to watch.
Visit our website for more articles: www.GoodMorningQuotes.in
Visit our website for more articles: www.CricketEvents.in
Visit our website for more articles: www.ConceptsMadeEasy.com
Visit our website for more articles: www.ShineITSolutions.in