SunRisers Hyderabad Vs Rajasthan Royals – 8th Match of IPL 2019 tournament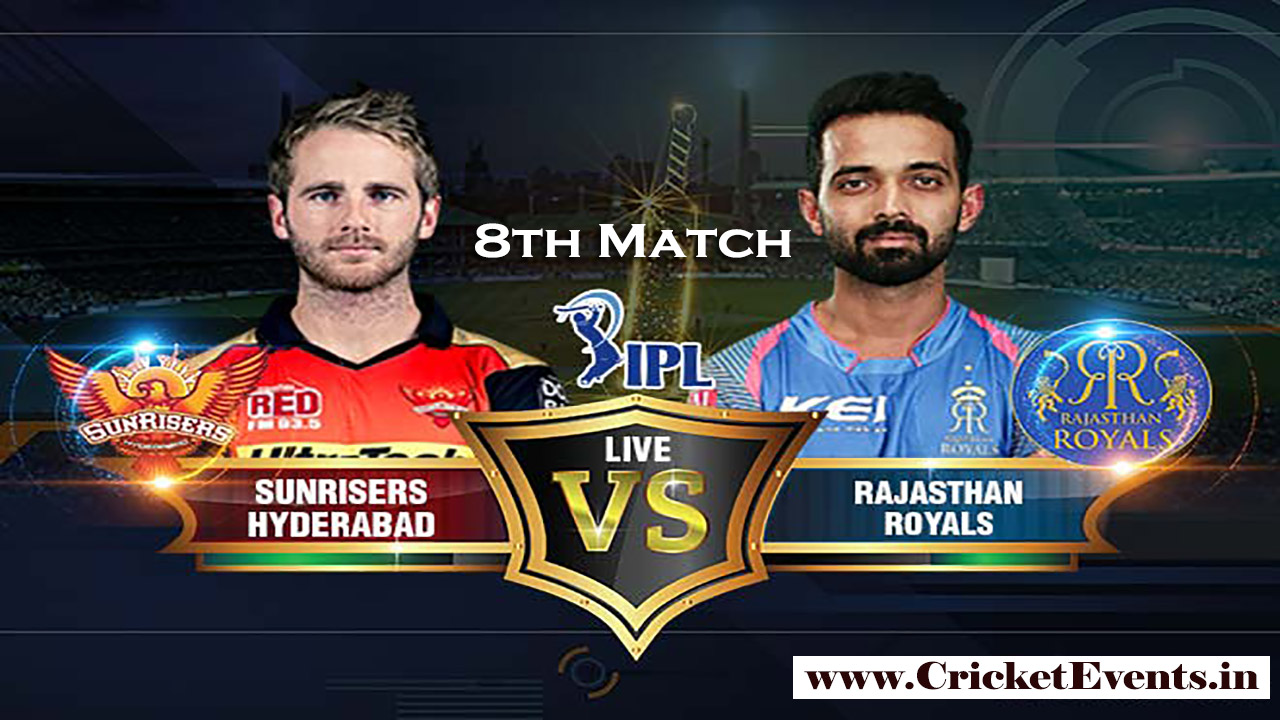 SunRisers Hyderabad Vs Rajasthan Royals – 8th Match of IPL 2019 tournament
SunRisers Hyderabad will take on Rajasthan Royals in what promises most interesting game of the VIVO Indian Premier League 2019 to be played at the RAJIV GANDHI INTERNATIONAL STADIUM in HYDERABAD on Friday, March 29, 2019.
Indian Premier League, one of the biggest sporting leagues in the world was introduced to the world in the year 2008. The 10 seasons of IPL since then have given the fans of the game some of the most exhilarating and nail-biting moments of their lifetime.
The 11th edition of the world's most popular and competitive T20 tournament will be played at nine venues across 51 days.
The upcoming edition will feature 12 matches that will be played at 4:00 PM IST and 48 matches will start at 8:00 PM IST.
Click here to know Complete Match Schedule of VIVO IPL Season 2019
Sunrisers Hyderabad (SRH):
The SunRisers Hyderabad (SRH) is a franchise cricket team based in Hyderabad, Telangana, that plays in the Indian Premier League (IPL). This is owned by Kalanithi Maran of the Sun TV channel Network and was founded in 2012 after the Hyderabad-based Deccan Chargers were terminated by the IPL. The team made an appearance in the IPL playoffs in its first season in 2013 and won its maiden title in the 2016 season.
Click here to read more about SunRisers Hyderabad
Rajasthan Royals (RR):
The Rajasthan Royals (RR) is a cricket team in the Indian Premier League from the city of Jaipur. Founded in 2008 as one of the initial eight IPL franchises, the Royals are owned by Manoj Badale. The team played its home matches at the Sawai Mansingh Stadium in Jaipur and also had secondary home grounds at the Sardar Patel Stadium at Ahmedabad and the Brabourne Stadium at Mumbai.
The Royals are sometimes considered the Moneyball team of the IPL. The Royals are known to unearth obscure exciting talent. The team won the inaugural edition of the IPL under the captaincy of Shane Warne, despite being written off as a title contender by the media and fans. The Royals were also the runners-up of the 2013 Champions League Twenty20 under Rahul Dravid's captaincy.
Click here to read more about Rajasthan Royals
Download this article as PDF File
Watch our Video on  Youtube Channel 'Concepts Made Easy'. Click here to watch.
Visit our website for more articles: www.GoodMorningQuotes.in
Visit our website for more articles: www.CricketEvents.in
Visit our website for more articles: www.ConceptsMadeEasy.com
Visit our website for more articles: www.ShineITSolutions.in
Visit our website https://ExamGuide.ConceptsMadeEasy.com for Free Exam Guidance
Visit our website https://ExamResults.ConceptsMadeEasy.com for Exam Results
Visit our website https://Jobs.ConceptsMadeEasy.com for Government Job and Career guidance
Visit our website https://StudyMaterial.ConceptsMadeEasy.com for Download Free Study Material
Visit our website https://WhatsAppStatus.GoodMorningQuotes.in for Sharing latest WhatsApp Status
Visit our website https://AmazingArticles.GoodMorningQuotes.in for reading amazing articles