1st T20 Match Preview and Live Score – India tour of England 2018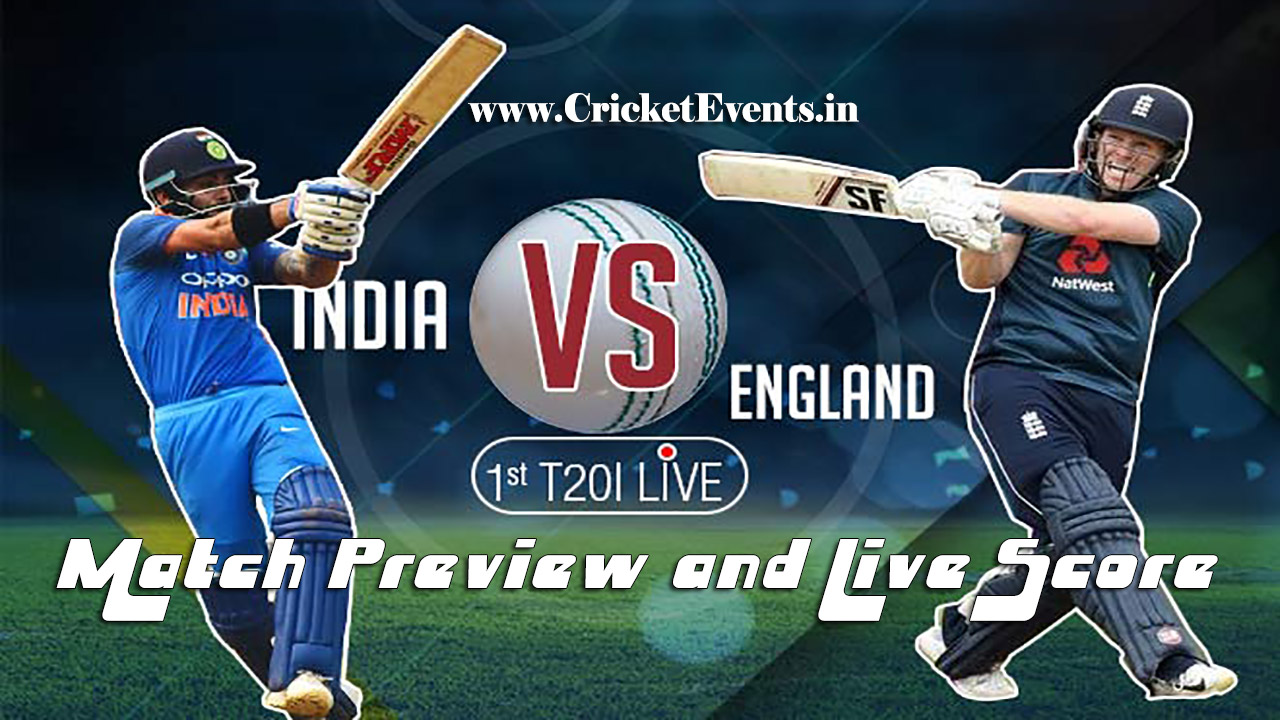 1st T20 Match Preview and Live Score – India tour of England 2018
The Indian cricket team will travel to England in June 2018 to play five Tests, three One Day Internationals (ODIs) and three Twenty20 Internationals (T20Is) that starts from July 3, 2018, to September 11, 2018. The Virat Kohli led India team will also play a first-class match against Essex in July at Chelmsford.
India won 1st T20 Match against England by 8 wickets.
Kuldeep Yadav | Man of the Match: It is my first tour of England and things are going really well. The conditions are perfect, felt like home. The wicket was dry and that's why I stuck to my line and length. It's important that when you bowl a wrong unit has to be in the perfect area. Obviously, when you have two legends (Kohli and Dhoni) you need to take all the advice you can. Things are going well and hopefully, I'd like to take it into the next match.
Virat Kohli | Winning skipper: Just looking at all the three skill-sets and how convincing we gave me a lot of pleasure. Some of the younger guys stepping up pleases us too. We are shuffling around keeping the World Cup in mind and that's why KL went in at three and I went in at four. Umesh was superb with the new ball as well. Kuldeep is a wrist spinner, he's going to be lethal with any help from the pitch. It was his one over that turned it for us because England was taking it away before that. He's very difficult to pick and his wrong 'un hasn't been easy and I hope he can keep working on it. At the toss, I didn't think the wicket wouldn't change much through the course of the game, but we were lucky to keep them down to 30-40 runs short. With the start they got, I thought they would get to 200. And then the odds were stacked against England. Rahul has come a long way; especially the way he's been batting since the IPL and in that one game in Ireland – so clean and crisp. We want guys like him to step up. We don't want to be one-dimensional, we want people going up and down the order. He's got a great technique, great temperament and is very hungry and today he was a bit emotional because the last century he scored was against England in Chennai and it's been that long he's been waiting for. It was a great century and a great sign for Indian cricket.
Eoin Morgan | Losing skipper: I think thoroughly deserved for India. The best part of the game was when Jos Buttler and Jason Roy got off to a fantastic start, but they pulled it back superbly. Three wickets in the middle set us back and we never really gained momentum back from there. And then when a guy like KL Rahul gets going, he's difficult to stop. Kuldeep is a terrific bowler, we knew he'd be a big threat coming into the series. It is something we need to assess and get back in the next game. When the wicket is that good you have to take your options, it gives you the incentive to go after. We needed to take every half chance possible, but we didn't and then defending 160 was always going to be difficult. But certainly had we taken them, we'd have been in the game. Today was a game of margins for our spinners; KL chipped one just over. But India played well today and it just wasn't our day and hopefully, we'll turn up for the next one. We talk about the crowds every time before an India or a Pakistan game, it has the potential to feel like an away game. The football is going on and it is a big factor and it is something which is very real but India has a great following and we have to deal with it.
Click here to know India tour of England 2018 Match Schedule
India National Cricket Team:
The India National cricket team, also known as Team India and Men in Blue, is governed by the Board of Control for Cricket in India (BCCI) and is a full member of the International Cricket Council (ICC) with Test, One Day International (ODI) and Twenty20 International (T20I) status.
Click here to read more about India National Cricket Team
England National Cricket Team:
The England cricket team represents England and Wales (and, until 1992, also Scotland) in international cricket. Since 1 January 1997 it has been governed by the England and Wales Cricket Board (ECB), having been previously governed by Marylebone Cricket Club (MCC) from 1903 until the end of 1996.[8][9] England, as a founding nation, is a full member of the International Cricket Council (ICC) with Test, One Day International (ODI) and Twenty20 International (T20I) status.
Click here to read more about England National Cricket Team
Download this article as PDF File
Watch our Video on  Youtube Channel 'Concepts Made Easy'. Click here to watch.
Visit our website for more articles: www.GoodMorningQuotes.in
Visit our website for more articles: www.CricketEvents.in
Visit our website for more articles: www.ConceptsMadeEasy.com
Visit our website for more articles: www.ShineITSolutions.in
Visit our website https://ExamGuide.ConceptsMadeEasy.com for Free Exam Guidance
Visit our website https://ExamResults.ConceptsMadeEasy.com for Exam Results
Visit our website https://Jobs.ConceptsMadeEasy.com for Government Job and Career guidance
Visit our website https://StudyMaterial.ConceptsMadeEasy.com for Download Free Study Material
Visit our website https://WhatsAppStatus.GoodMorningQuotes.in for Sharing latest WhatsApp Status
Visit our website https://AmazingArticles.GoodMorningQuotes.in for reading amazing articles