India won the 1st ODI match against England – India tour of England 2018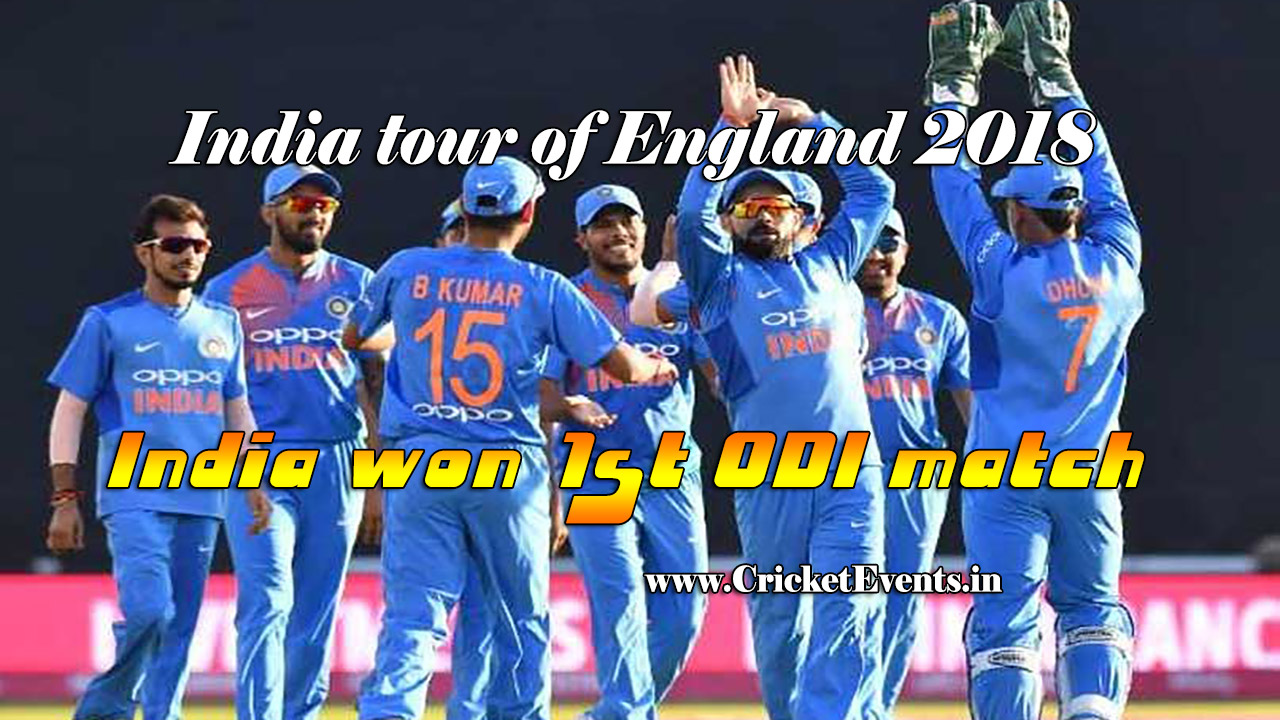 India won 1st ODI match against England – India tour of England 2018
The Indian cricket team will travel to England in June 2018 to play five Tests, three One Day Internationals (ODIs) and three Twenty20 Internationals (T20Is) that starts from July 3, 2018, to September 11, 2018. The Virat Kohli led India team will also play a first-class match against Essex in July at Chelmsford.
India won 1st ODI Match against England by 8 wickets.
Kuldeep Yadav, Man of the Match: For me, it is a big day. I started off well in the first few overs. Luckily I got a couple of wickets in the first two overs. For me, it does not matter if the ground is small. Initially, I thought there was a lot of turns and after the first over, I knew I was in the game. If you are bowling in the right areas and you are using the variations perfectly, then it is pretty hard for the batsman. I know they will come back hard at us in the next game. I am hoping for a Test call.
Virat Kohli | Winning skipper: As clinical as it can be. We knew it was a good wicket to play on. Those wrist spinners in the middle overs are going to be tricky. Given more overs and more time in the middle, they become even more lethal. When guys are not going hard at them, they have 10 overs and they know they have something to come back and have the skill to do it. Kuldeep was outstanding. To give away 25 runs and pick up 6 wickets on that kind of a wicket, I don't think I have seen a better spell of bowling in ODIs of late. After that, Rohit batting very long and finishing the game for us. We made a tactical decision (at Bristol) looking at the dimensions of the ground and the breeze flowing into the shorter boundary. When it comes to the longer game, you need players to make an impact. These two wrist spinners have been making the difference since they have come in. They did it in South Africa in the middle overs. They remain as our key weapons.
Eoin Morgan | Losing skipper: Certainly not our best day out here. Full credit to India as they completely outplayed us. Kuldeep had a very good day at the office. Playing spin against India is one challenge that hopefully we will keep improving upon. But today we were well off the mark. I think both the games there has been more turn than on the grounds that we have played on and that is one thing probably that we have identified. I think Lord's will be different as it won't offer a great deal of turn. But certainly, he (Kuldeep) extracted more turn out of this than any other spinner. We need to improve as a side. The seamers on this wicket come on to the bat on this wicket and hence the high scoring nature of the ground. We need to expose our areas of weakness before the World Cup and this seems to be one of them. And because it is a rare chance to be coming up against two wrist spinners. During the winter, we tour to West Indies and Sri Lanka and this will be good practice for those series.
Click here to know India tour of England 2018 Match Schedule
India National Cricket Team:
The India National cricket team, also known as Team India and Men in Blue, is governed by the Board of Control for Cricket in India (BCCI) and is a full member of the International Cricket Council (ICC) with Test, One Day International (ODI) and Twenty20 International (T20I) status.
Click here to read more about India National Cricket Team
England National Cricket Team:
The England cricket team represents England and Wales (and, until 1992, also Scotland) in international cricket. Since 1 January 1997 it has been governed by the England and Wales Cricket Board (ECB), having been previously governed by Marylebone Cricket Club (MCC) from 1903 until the end of 1996.[8][9] England, as a founding nation, is a full member of the International Cricket Council (ICC) with Test, One Day International (ODI) and Twenty20 International (T20I) status.
Click here to read more about England National Cricket Team
Download this article as PDF File
Watch our Video on  Youtube Channel 'Concepts Made Easy'. Click here to watch.
Visit our website for more articles: www.GoodMorningQuotes.in
Visit our website for more articles: www.CricketEvents.in
Visit our website for more articles: www.ConceptsMadeEasy.com
Visit our website for more articles: www.ShineITSolutions.in
Visit our website https://ExamGuide.ConceptsMadeEasy.com for Free Exam Guidance
Visit our website https://ExamResults.ConceptsMadeEasy.com for Exam Results
Visit our website https://Jobs.ConceptsMadeEasy.com for Government Job and Career guidance
Visit our website https://StudyMaterial.ConceptsMadeEasy.com for Download Free Study Material
Visit our website https://WhatsAppStatus.GoodMorningQuotes.in for Sharing latest WhatsApp Status
Visit our website https://AmazingArticles.GoodMorningQuotes.in for reading amazing articles