Who is the Best Finisher in Cricket History – MS Dhoni vs Ab De Villiers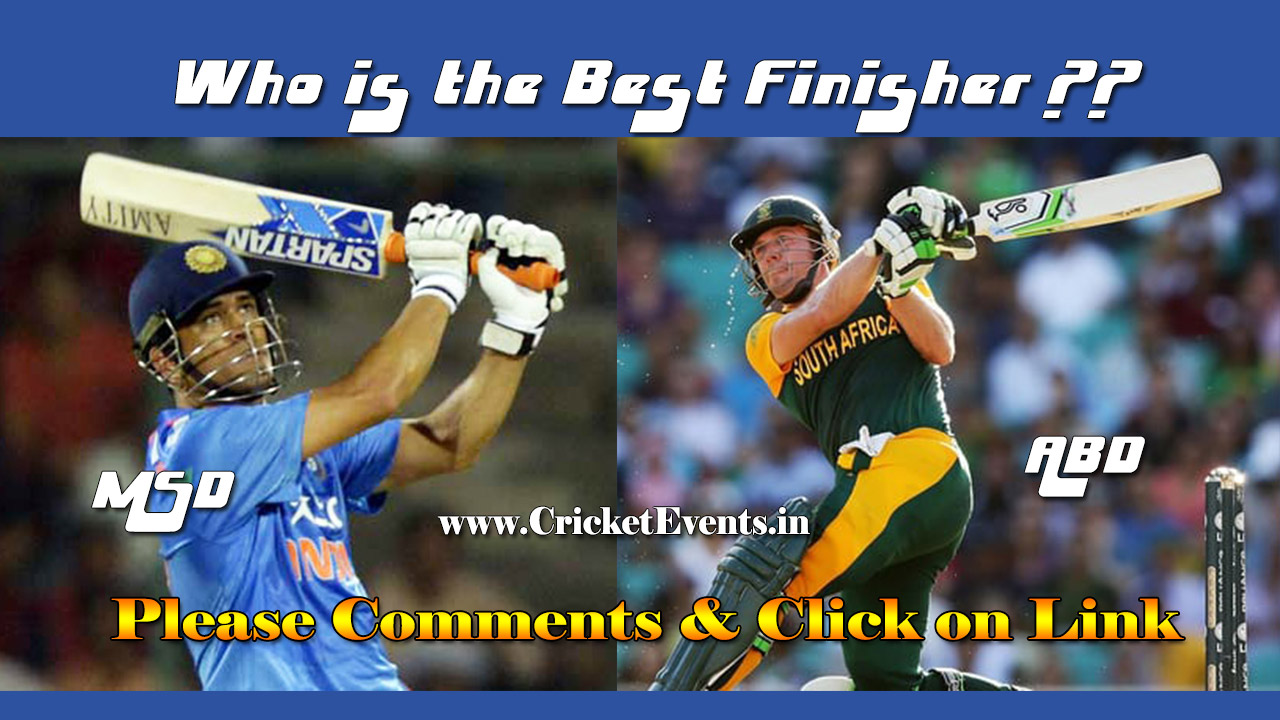 Who is the Best Finisher in Cricket History – MS Dhoni vs Ab De Villiers
MS Dhoni:
Mahendra Singh Dhoni commonly known as MS Dhoni (born 7 July 1981) is an Indian international cricketer who captained the Indian national team in limited-overs formats from 2007 to 2016 and in Test cricket from 2008 to 2014. An attacking right-handed middle-order batsman and wicket-keeper, he is widely regarded as one of the greatest finishers in limited-overs cricket. He is also regarded as one of the best wicket-keepers in world cricket and is known to have very fast hands. He made his One Day International (ODI) debut in December 2004 against Bangladesh and played his first Test a year later against Sri Lanka.
Dhoni has been the recipient of many awards, including the ICC ODI Player of the Year award in 2008 and 2009 (the first player to win the award twice), the Rajiv Gandhi Khel Ratna award in 2007, the Padma Shri, India's fourth highest civilian honour, in 2009 and the Padma Bhushan, India's third highest civilian honour, in 2018. He was named as the captain of the ICC World Test XI in 2009, 2010 and 2013. He has also been selected a record 8 times in ICC World ODI XI teams, 5 times as captain. The Indian Territorial Army conferred the honorary rank of Lieutenant Colonel to Dhoni on 1 November 2011. He is the second Indian cricketer after Kapil Dev to receive this honor.
Dhoni also holds numerous captaincy records such as the most wins by an Indian captain in Tests, ODIs, and T20Is and most back-to-back wins by an Indian captain in ODIs. He took over the ODI captaincy from Rahul Dravid in 2007 and led the team to its first-ever bilateral ODI series wins in Sri Lanka and New Zealand. Under his captaincy, India won the 2007 ICC World Twenty20, the CB Series of 2007–08, the 2010 Asia Cup, the 2011 ICC Cricket World Cup and the 2013 ICC Champions Trophy. In the final of the 2011 World Cup, Dhoni scored 91 not out off 79 balls handing India the victory for which he was awarded the Man of the Match.
In June 2013, when India defeated England in the final of the Champions Trophy in England, Dhoni became the first captain to win all three ICC limited-overs trophies (World Cup, Champions Trophy, and the World Twenty20). After taking up the Test captaincy in 2008, he led the team to series wins in New Zealand and West Indies, and the Border-Gavaskar Trophy in 2008, 2010 and 2013. In 2009, Dhoni also led the Indian team to number one position for the first time in the ICC Test rankings. In 2013, under his captaincy, India became the first team in more than 40 years to whitewash Australia in a Test series. In the Indian Premier League, he captained the Chennai Super Kings to victory at 2010, 2011 and 2018 seasons, along with wins in the 2010 and 2014 editions of Champions League Twenty20. He announced his retirement from Tests on 30 December 2014.
Ab De Villiers:
Abraham Benjamin de Villiers (born 17 February 1984), commonly known as AB de Villiers and Mr 360 Degree, also simply known as ABD, is a former South African cricketer who played for the South African national team He is regarded as one of the greatest batsmen of all time. De Villiers holds many batting records, including the world's fastest One Day International (ODI) 50, 100 and 150, the fastest Test century by a South African and the fastest Twenty20 International (T20I) 50 by a South African. He also plays for Titans in domestic cricket and Royal Challengers Bangalore in the Indian Premier League.
He began his international career as a wicket-keeper/batsman (returning to the role for a few years in mid-career), but has played most often solely as a batsman. He would bat at various positions in the batting order but predominantly in the middle-order. Noted as one of the most innovative batsmen in the modern game, de Villiers is noted for many unorthodox shots behind the wicket-keeper and slips. He made his international debut in a Test match against England in 2004 and first played an ODI in early 2005. His debut in Twenty20 International cricket came in 2006. As of 2016, he has passed 8,000 runs in both Test and ODI cricket and has a batting average of over fifty in both forms of the game. He is also the only batsman in ODI cricket to have completed a trio of 5000+ runs, 50+ average and 100+ strike rate in his career. As of May 2018, he scored 20,014 runs in international cricket since debut just lying second behind Kumar Sangakkara.
De Villiers captained South Africa in all formats, but since his injuries, he stepped down from Test captaincy and continued in limited over formats. However, with defeats in the 2017 ICC Champions Trophy and England series, he stepped down from limited over captaincy as well. On 23 May 2018, he announced that he was retiring from all forms of international cricket.
Download this article as PDF File
Watch our Video on  Youtube Channel 'Concepts Made Easy'. Click here to watch.
Visit our website for more articles: www.GoodMorningQuotes.in
Visit our website for more articles: www.CricketEvents.in
Visit our website for more articles: www.ConceptsMadeEasy.com
Visit our website for more articles: www.ShineITSolutions.in
Visit our website https://ExamGuide.ConceptsMadeEasy.com for Free Exam Guidance
Visit our website https://ExamResults.ConceptsMadeEasy.com for Exam Results
Visit our website https://Jobs.ConceptsMadeEasy.com for Government Job and Career guidance
Visit our website https://StudyMaterial.ConceptsMadeEasy.com for Download Free Study Material
Visit our website https://WhatsAppStatus.GoodMorningQuotes.in for Sharing latest WhatsApp Status
Visit our website https://AmazingArticles.GoodMorningQuotes.in for reading amazing articles