Team South Africa Squad of ICC Cricket World Cup 2019
About ICC Cricket World Cup 2019
ICC Cricket World Cup 2019 is the 12th edition of the Cricket World Cup, scheduled to be hosted by England and Wales, from 30 May to 14 July 2019. The first match will be played at The Oval while the final will be played at Lord's. It is the fifth time that the Cricket World Cup will be held in England and Wales, following the 1975, 1979, 1983 and 1999 World Cups.
The fixture list for the tournament was released on 26 April 2018 after the completion of an International Cricket Council (ICC) meeting in Kolkata. London Stadium had been named as a possible venue in the planning stages, and in January 2017 the ICC completed an inspection of the ground, confirming that the pitch dimensions would be compliant with the requirements to host ODI matches. However, when the fixtures were announced, London Stadium was not included as a venue.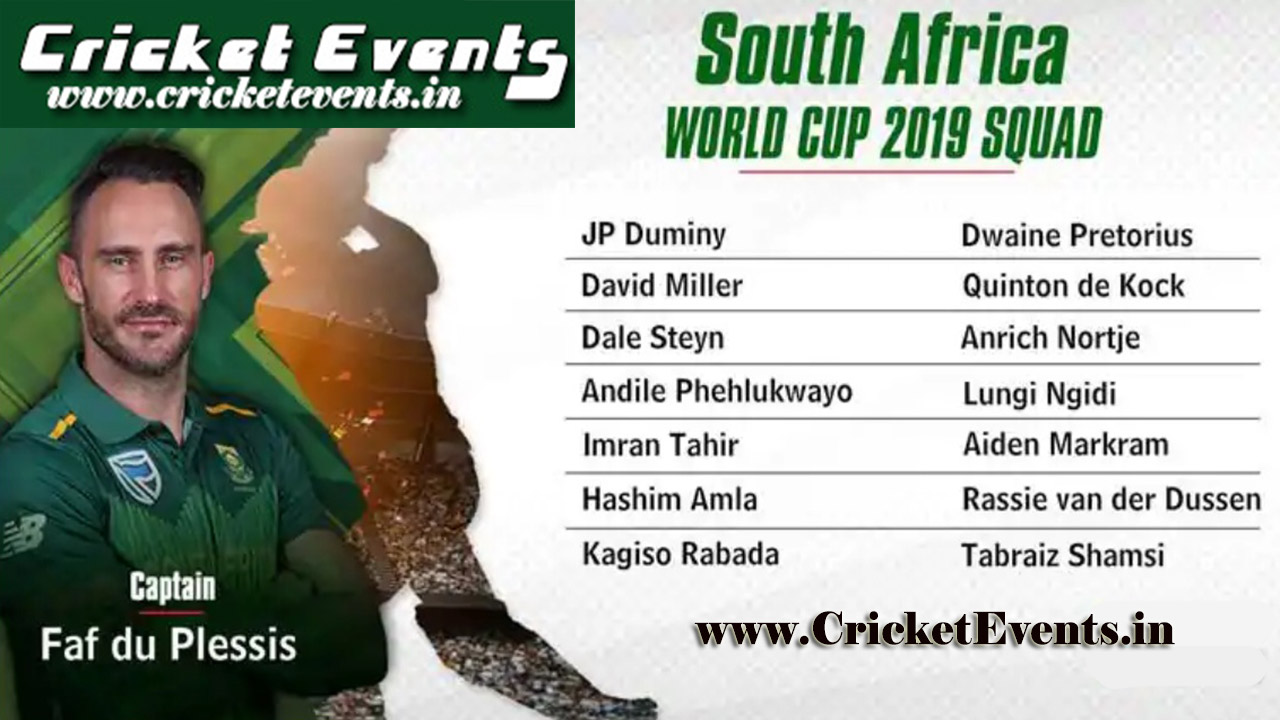 Team South Africa Squad of ICC Cricket World Cup 2019
Team South Africa Squad of ICC Cricket World Cup 2019
BATSMEN
Faf du Plessis (Captain)
(Batsman)
David Miller
(Batsman)
Aiden Markram
(Batsman)
Hashim Amla
(Batsman)
Rassie van der Dussen
(Batsman)
ALL ROUNDER
Jean-Paul Duminy
(Batting Allrounder)
Chris Morris
(Bowling Allrounder)
Dwaine Pretorius
(Bowling Allrounder)
Andile Phehlukwayo
(Bowling Allrounder)
WICKET KEEPER
Quinton de Kock (Keeper)
(WK-Batsman)
BOWLER
Kagiso Rabada
(Bowler)
Lungi Ngidi
(Bowler)
Imran Tahir
(Bowler)
Dale Steyn
(Bowler)
Tabraiz Shamsi
(Bowler)
---
About Team South Africa
The South African national cricket team, nicknamed the Proteas (after South Africa's national flower, Protea cynaroides, commonly known as the "king protea"), is administered by Cricket South Africa. South Africa is a full member of the International Cricket Council (ICC) with Test, One Day International (ODI) and Twenty20 International (T20I) status.
South Africa entered first-class and international cricket at the same time when they hosted an England cricket team in the 1888–89 season. At first, the team was no match for Australia or England but, having gained in experience and expertise, they were able to field a competitive team in the first decade of the 20th century. The team regularly played against Australia, England and New Zealand through to the 1960s, by which time there was considerable opposition to the country's apartheid policy and an international ban was imposed by the ICC, commensurate with actions taken by other global sporting bodies. When the ban was imposed, South Africa had developed to a point where its team including Eddie Barlow, Graeme Pollock and Mike Procter was arguably the best in the world and had just outplayed Australia.
The ban remained in place until 1991 and South Africa could then play against India, Pakistan, Sri Lanka and the West Indies for the first time. The team since reinstatement has mostly been strong and has at times held number one positions in international rankings but has lacked success in organised tournaments. Outstanding players since reinstatement have included Allan Donald, Makhaya Ntini, Shaun Pollock, Jacques Kallis, Graeme Smith, Kagiso Rabada, AB de Villiers, Dale Steyn, Herschelle Gibbs, Faf du Plessis, Imran Tahir and Hashim Amla.
In the 2003 World Cup, South Africa were one of the favorites but were eliminated by one run in the group stages after they had mistakenly counted the number of runs they needed. They have also had bad press for failing in vital matches in global tournaments including the 2002 ICC Champions Trophy and the 2007 ICC World Twenty20.
With Donald retiring, Cronje banned for match-fixing and later killed in a plane crash, and Pollock also retiring from international cricket, the team once again changed shape. Graeme Smith was made captain, although following injuries to Smith and Jacques Kallis, Ashwell Prince deputised as Test captain on 12 July 2006. At the age of 29, he became the first non-white man to captain the once all-white South African cricket team. Although that racial quota policy, was rescinded in 2007, a new rule passed in 2016 stated that the team had to have an average minimum of six Black players, of which two must be Black African, in matches over the season.
With the addition of class players such as AB de Villiers and Hashim Amla, the South African Cricket team started rising in the ICC rankings. After many of the major players in the Australian side that had dominated the early 2000s had retired, the number one place in the ICC Test Championship was a wide open race, with India and England having short stints as the number one side. South Africa toured England in 2012 for a three Test series with the winner assured of being the world No. 1. South Africa went on to take the series comfortably 2–0 and claim the top spot in the rankings, a position they retained for over a full calendar year from 20 August 2012. Eight days later, on 28 August 2012, South Africa became the first team to top the rankings in all three formats of the game.
In February 2014 South Africa took on Australia in a Test series, with the winner being ranked No. 1 team in the world. Australia won the series 2–1. South Africa later in the year would regain the No. 1 ranking. As of 20 March 2016 South Africa are ranked 3rd in Test Cricket.
During this time of dominance in the Test arena, the ODI and T20I performances were far less consistent, as South Africa search for a winning formula ahead of the 2014 ICC World Twenty20 and the 2015 ICC Cricket World Cup. A notable ODI series loss to New Zealand at home in January 2013, and a further loss in Sri Lanka highlighted South Africa's recent difficulties. Exits from the 2012 ICC World Twenty20 and the 2013 ICC Champions Trophy only served to improve South Africa's reputation as 'chokers' in major tournaments. In the latter years of Smith's career, South Africa split the captaincy in the shorter forms of the game, with the ODI side being led by AB de Villiers and the T20I side by Faf du Plessis. After Smith's retirement, Hashim Amla was appointed captain of the test side, leading his side to victory in his first test in charge, in Galle in Sri Lanka.
As of 7 February 2018, South Africa has played 420 Test matches, winning 157 and losing 139. The team has played 586 ODIs, winning 361, losing 203 and tying six, with 16 no-results. Finally, it has played 91 T20Is, winning 54 and losing 36, with one no-result.
As of 15 March 2018, the ICC ranks South Africa second in Tests, second in ODIs and seventh in T20Is, as well as sixth in the women's overall championship.
This is a list of every active player to have played for South Africa in the last year (since 26 February 2018), and the forms of the game in which they have played. Duanne Olivier and Morné Morkel and AB de Villiers have also played for the national side in that period, but have since announced their retirement from international cricket.
For the 2019–20 period Cricket South Africa awarded 16 players national contracts, from which selectors choose the core of the Test, One-Day and Twenty20 International teams. Non-contracted players remain eligible for selection and can be upgraded to a Cricket South Africa contract if they gain regular selection.
South Africa has a record of failing to win major tournaments and is much-maligned because of this. The 1992 Cricket World Cup, for example, featured a rain-affected semi-final played before the introduction of the Duckworth-Lewis rain rule. South Africa needed 22 runs from 13 balls when rain intervened. After the delay they were left in the situation of requiring 22 runs from one ball to progress. In 1996 they were eliminated in the quarter-finals despite being one of the fancied teams and having qualified first in their group.In 1999 South Africa lost in the semi-final to eventual champions Australia. The match ended in a tie both South Africa and Australia managing 213 but Australia advanced to the Final as Australia finished higher than South Africa in the group.
South Africa hosted the 2003 Cricket World Cup, but failed to progress beyond the group stage due to a misunderstanding of how many runs they needed to score in a rain-affected run chase. As a result of this, Shaun Pollock resigned as captain and was replaced by young batsman Graeme Smith, although Pollock continued to play for the team. Under Smith's leadership, South Africa has achieved some success, although they have been hampered by the retirements of many star players, including fast bowler Allan Donald and one-day specialist Jonty Rhodes. As a result, they had a poor 2004, only winning against the Windies.
In the 2007 Cricket World Cup they had a rollercoaster ride that included dominant wins over England, the West Indies, Ireland, Netherlands and Scotland, and a narrow win over Sri Lanka, but devastating losses to Australia, New Zealand and Bangladesh that cost them the No. 1 ranking. Then they bowed out in the semi-finals with their lowest ever score in a World Cup as Australia bowled them out for 149 and won by 7 wickets.
In the 2011 World Cup, South Africa topped Group B with the distinction of bowling out every side they played within the 50 over limit, which also included a famous victory over hosts India. In the quarter final they were beaten by New Zealand after suffering a dramatic collapse and losing eight wickets for 68 runs.
Even after many setbacks, their biggest heartbreak was awaiting them in the 2015 World cup semi-final where they lost to the tournament runners up New Zealand in a rain affected tie. Batting first South Africa posted 281–5 and set a revised target of 298 to New Zealand, thanks to an amazing batting performance by Faf du Plessis, David Miller and captain AB de Villiers. Chasing a mammoth target of 298 New Zealand got off to a flier inspired by their captain Brendon McCullum. But the real hero of the match Grant Elliott who scored 84* including to a second last ball six off world best bowler Dale Steyn. This saw South Africa crash out of the 2015 World Cup despite playing some fantastic cricket throughout the entire tournament. This loss was probably the most heartbreaking for South Africa to New Zealand in the semi-final which saw each and every South African player get emotional in the post match presentation. Although South Africa lost in this match they won hearts of every cricket fan as they won their first Knockout match in the World Cup Quarter final against Sri Lanka. After a good world cup South Africa went on to dominate ODI cricket in bilateral series which saw the Proteas rise to No. 1 in the ICC ODI Championship.
They also hold the record of the highest successful run chase and made the highest total (the latter record has been surpassed) in One-Day Internationals (438–9 in 49.5 overs), in an iconic match against Australia on 12 March 2006. This game is considered by many to be the greatest One-Day International ever played.
South Africa beat Netherlands by 231 runs in Mohali in Group matches in ICC World Cup 2011, The 231-run win is the fourth largest margin of victory for any team in World Cups and the largest for South Africa in World Cups. It is also the second largest margin of victory for South Africa in ODIs on 3 March 2011. The 87-run stand between JP Duminy and Colin Ingram is the highest for the sixth wicket for South Africa in World Cups. The highest sixth-wicket stand for South Africa in ODIs is the 137 between Hansie Cronje and Shaun Pollock against Zimbabwe in 1997. The triumph is South Africa's seventh by a fringe of hundred or more runs in World Cups.
Team South Africa Squard of ICC Cricket World Cup 2019
Complete analysis of South Africa Team of ICC Cricket World Cup 2019
ICC Cricket World Cup 2019 full Match Schedule – Time and Venue
Complete analysis of Teams of ICC Cricket World Cup 2019
---
Complete analysis of South Africa Team of ICC Cricket World Cup 2019
Visit our website: www.cricketevents.in
Watch our Video on  Youtube Channel 'Concepts Made Easy'. Click here to watch.
Visit our website for more articles: www.GoodMorningQuotes.in
Visit our website for more articles: www.CricketEvents.in
Visit our website for more articles: www.ConceptsMadeEasy.com
Visit our website for more articles: www.ShineITSolutions.in
Visit our website https://ExamGuide.ConceptsMadeEasy.com for Free Exam Guidance
Visit our website https://ExamResults.ConceptsMadeEasy.com for Exam Results
Visit our website https://Jobs.ConceptsMadeEasy.com for Government Job and Career guidance
Visit our website https://StudyMaterial.ConceptsMadeEasy.com for Download Free Study Material
Visit our website https://WhatsAppStatus.GoodMorningQuotes.in for Sharing latest WhatsApp Status
Visit our website https://AmazingArticles.GoodMorningQuotes.in for reading amazing articles