Top 5 Most Dangerous Batsman of 12th IPL 2019 Tournament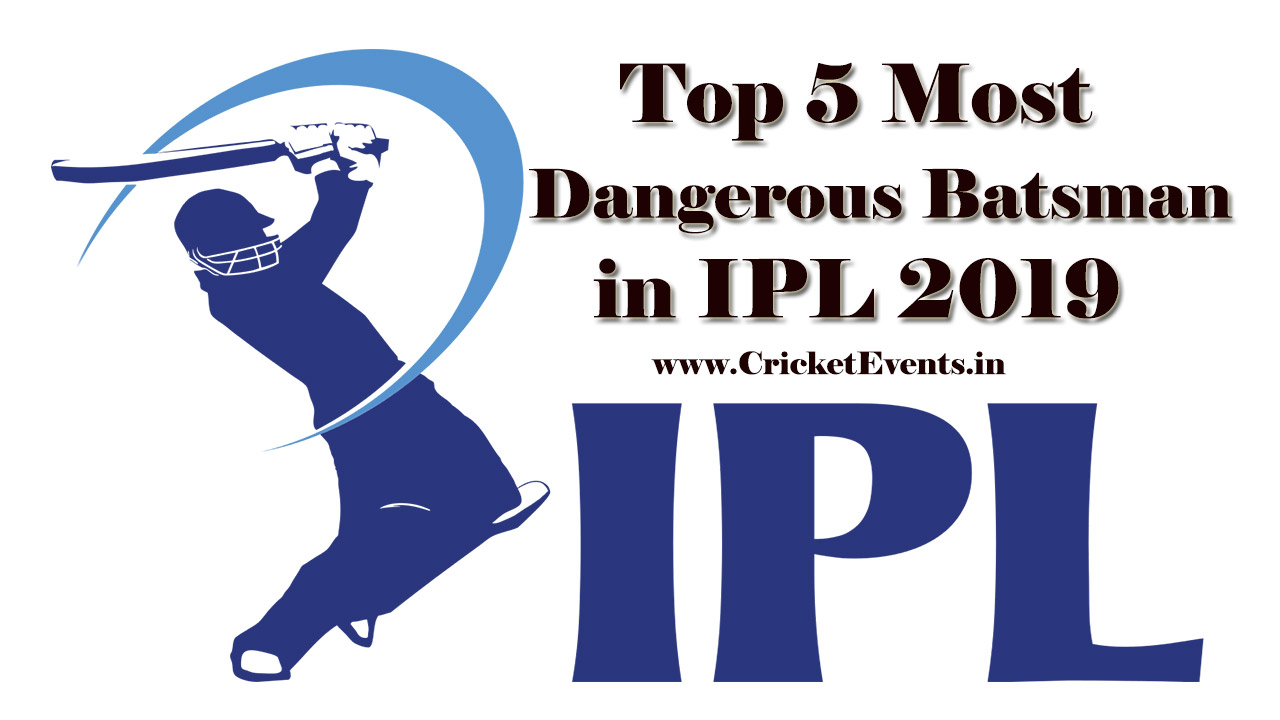 Top 5 Most Dangerous Batsman of 12th IPL 2019 Tournament
Top 5 Most Dangerous Batsman of 12th IPL 2019 Tournament:
1. AB de Villiers :
Abraham Benjamin de Villiers (born 17 February 1984), commonly known as AB de Villiers and Mr 360 Degree, also simply known as ABD, is a former South African cricketer who played for the South African national team. He is regarded as one of the greatest batsmen of all time. De Villiers holds many batting records, including the world's fastest One Day International (ODI) 50, 100 and 150, the fastest Test century by a South African and the fastest Twenty20 International (T20I) 50 by a South African. He also plays for Titans in domestic cricket and Royal Challengers Bangalore in the Indian Premier League.
De Villiers captained South Africa in all formats, but since his injuries, he stepped down from Test captaincy and continued in limited over formats. However, with defeats in the 2017 ICC Champions Trophy and England series, he stepped down from limited over captaincy as well. On 23 May 2018, he announced that he was retiring from all forms of international cricket.
2. Chris Gayle :
Christopher Henry Gayle (born 21 September 1979) is a Jamaican cricketer who plays international cricket for the West Indies. Gayle captained the West Indies' Test side from 2007 to 2010. Considered one of the greatest batsmen in limited-overs cricket, also regarded as the best T20 batsman ever. Gayle has set numerous records across all three formats of cricket. He is widely acknowledged as one of the most destructive batsmen in the history of the game, particularly in Twenty20. He is well known for hitting sixes; in 2012 he became the first player to hit a six off the first ball of a Test match.
He is one of only four players who has scored two triple centuries at Test level: 317 against South Africa in 2005, and 333 against Sri Lanka in 2010. Gayle became the first batsman in World Cup history to score a double century when he reached 200 off 138 balls against Zimbabwe during the 2015 World Cup. He finished on 215 runs, which was the record for highest score in a World Cup until it was broken by Martin Guptill against Gayle's own team. He is one of the five players to score a double century in ODIs. In March 2016, Gayle became only the second player (after Brendon McCullum) to hit two Twenty20 International hundreds, scoring 100 not out against England.
3. Rohit Sharma:
Rohit Gurunath Sharma (born 30 April 1987) is an Indian international cricketer who is the vice-captain of the India national team in limited-overs formats. He is a right-handed batsman and an occasional right-arm off break bowler who plays for Mumbai in domestic cricket and captains Mumbai Indians in the Indian Premier League.
Having started his international career at the age of 20, Sharma quickly came to be pegged by many analysts as a permanent fixture in the Indian cricket team in the next decade. He made his ODI debut on 23 June 2007 against Ireland. In 2013, he started playing as an opening batsman for India ODI team and performed consistently. He scored consecutive centuries in his first two Test matches against the West Indies in November 2013, scoring 177 at the Eden Gardens in Kolkata on debut, followed by a score of 111* in the next Test at the Wankhede Stadium in Mumbai. He played 108 ODIs before playing his maiden Test.
On 13 November 2014, Rohit Sharma scored 264 against Sri Lanka at Eden Gardens, Kolkata, which is the highest individual score in ODIs. He has also scored 106 against South Africa in Twenty20 Internationals and became the second Indian to score a century in all three formats. He then became the only player in the world to score three double hundreds in ODIs.
4. Virat Kohli:
Virat Kohli (born 5 November 1988) is an Indian international cricketer who currently captains the India national team. An elegant right-handed batsman, Kohli is regarded as one of the best batsmen in the world. He plays for Royal Challengers Bangalore in the Indian Premier League (IPL) and has been the team's captain since 2013.
Born and raised in Delhi, Kohli represented the city's cricket team at various age-group levels before making his first-class debut in 2006. He captained India Under-19s to victory at the 2008 Under-19 World Cup in Malaysia, and a few months later, made his ODI debut for India against Sri Lanka at the age of 19. Initially having played as a reserve batsman in the Indian team, he soon established himself as a regular in the ODI middle-order and was part of the squad that won the 2011 World Cup. He made his Test debut in 2011 and shrugged off the tag of "ODI specialist" by 2013 with Test hundreds in Australia and South Africa. Having reached the number one spot in the ICC rankings for ODI batsmen for the first time in 2013, Kohli also found success in the Twenty20 format, winning the Man of the Tournament twice at the ICC World Twenty20 (in 2014 and 2016). In 2014, he became the top-ranked T20I batsman in the ICC rankings, holding the position for three successive years till 2017. Since October 2017, he has also been the top-ranked ODI batsman in the world and is currently the 2nd ranked Test batsman in the world.
5. MS Dhoni:
Mahendra Singh Dhoni commonly known as MS Dhoni (born 7 July 1981) is an Indian international cricketer who captained the Indian national team in limited-overs formats from 2007 to 2016 and in Test cricket from 2008 to 2014. An attacking right-handed middle-order batsman and wicket-keeper, he is widely regarded as one of the greatest finishers in limited-overs cricket. He is also regarded as one of the best wicket-keepers in world cricket and is known to have very fast hands. He made his One Day International (ODI) debut in December 2004 against Bangladesh and played his first Test a year later against Sri Lanka.
Dhoni has been the recipient of many awards, including the ICC ODI Player of the Year award in 2008 and 2009 (the first player to win the award twice), the Rajiv Gandhi Khel Ratna award in 2007, the Padma Shri, India's fourth highest civilian honour, in 2009 and the Padma Bhushan, India's third highest civilian honour, in 2018. He was named as the captain of the ICC World Test XI in 2009, 2010 and 2013. He has also been selected a record 8 times in ICC World ODI XI teams, 5 times as captain. The Indian Territorial Army conferred the honorary rank of Lieutenant Colonel to Dhoni on 1 November 2011. He is the second Indian cricketer after Kapil Dev to receive this honour.
Download this article as PDF File
Watch our Video on  Youtube Channel 'Concepts Made Easy'. Click here to watch.
Visit our website for more articles: www.GoodMorningQuotes.in
Visit our website for more articles: www.CricketEvents.in
Visit our website for more articles: www.ConceptsMadeEasy.com
Visit our website for more articles: www.ShineITSolutions.in
Visit our website https://ExamGuide.ConceptsMadeEasy.com for Free Exam Guidance
Visit our website https://ExamResults.ConceptsMadeEasy.com for Exam Results
Visit our website https://Jobs.ConceptsMadeEasy.com for Government Job and Career guidance
Visit our website https://StudyMaterial.ConceptsMadeEasy.com for Download Free Study Material
Visit our website https://WhatsAppStatus.GoodMorningQuotes.in for Sharing latest WhatsApp Status
Visit our website https://AmazingArticles.GoodMorningQuotes.in for reading amazing articles